Our Legacy Society
An Invitation to Join The Doremus Society
Members of The Doremus Society have expressed their commitment to Washington and Lee University through a very special and important form of financial support.
These donors have named Washington and Lee as the ultimate beneficiary of a planned gift. Such gifts might include a bequest or beneficiary designation to a retirement plan and/or charitable income gifts, such as charitable gift annuities, charitable remainder unitrusts, or charitable remainder annuity trusts.
Once you complete your estate plans, please fill out our member profile form to let us know. We would like to thank you for your generosity by including you in The Doremus Society.
Your membership involves no dues, obligations, or solicitations, but it does allow us to thank you and recognize you for the plans you have made, and it may inspire generosity in others.
The most important benefit you will receive from joining The Doremus Society is the satisfaction derived from making a lasting contribution to our long-term prosperity.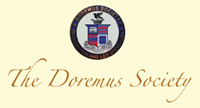 Washington and Lee established the Doremus Society in 1993 to recognize individuals and couples who have thoughtfully provided for the university through income retained gifts, included provisions in their wills or will make legacy contributions through other forms of planned giving.
The name "Doremus Society" honors the legendary gift to Washington and Lee by Robert P. Doremus through a provision in his estate plan. While visiting Washington and Lee shortly before his death in 1913, the successful stockbroker was greeted by a student who offered to escort him around the campus and show him points of interest. Doremus had come to Washington and Lee because he decided that he would bestow his estate upon some Southern institution in honor of his Southern mother. He was in the process of visiting several schools, entirely unannounced, in order to determine which of them would receive the estate. Doremus was so impressed with the unidentified student's friendliness and courtesy that, upon returning to New York, he provided in his will that upon his wife's death, his entire estate should be given to Washington and Lee University.
After Doremus' death that same year, his widow, Jessie Doremus, gave the university its gymnasium and indoor swimming pool, estimated to have cost between $80,000 and $100,000. Completed in 1915, the building is named the Doremus Memorial Gymnasium. After the death of Jessie Doremus in 1936, the provisions of her late husband's will were carried out, and the entire estate, amounting to $1.5 million—$23 million in today's dollars—was given to the university.
From the donors like Doremus whose gifts followed George Washington's signal contribution, to the gifts from last year's graduating students, private philanthropy has strengthened and sustained Washington and Lee for more than 250 years. The university's long-standing pursuit of intellectual and moral excellence guides our every step. Thank you for considering a gift to support this extraordinary place and, in turn, the many communities and lives that our alumni and future graduates will touch.
Planned gifts then and now endow scholarships, support faculty and provide for campus facilities. To join the Doremus Society, simply include a bequest to Washington and Lee in your will or living trust, name the university as a beneficiary of your retirement plan or life insurance policy, or establish a planned gift naming Washington and Lee as beneficiary.
Doremus Society members receive updates on the university and philanthropic planning tips, are recognized by the university as members of the society, and proudly wear the Doremus Society pin indicating they are helping build a secure future for the university. Our development staff will be glad to work with you and your financial and legal advisors to develop a plan that meets your needs while making provision for Washington and Lee.