Meet Our Donors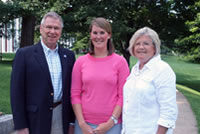 Hardin '55 '58L and Heather Marion established the J. Hardin and Heather Marion Scholarship to pay back the University for scholarships he received both as an undergraduate and a law student. Ellis Pretlow '12L, 3-year recipient of the scholarship, is a member of ODK, the Tax Law Clinic, and served as Mock Convention 2012 Public Relations Chair. Coincidentally, Hardin was Secretary of Mock Convention in 1956. Hardin and Marion have chosen to add to the Scholarship through bequests in their wills.
---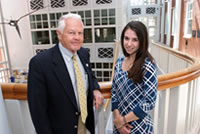 Hugh B. Sproul, III '58 supports the scholarship named in memory of his grandfather, class of 1894 and has provided a bequest to enhance the scholarship in his will.
Susan Giampalmo'12, a biology major and four year recipient of the Hugh B. Sproul Scholarship is serving two years with Teach for America before applying to medical school.
---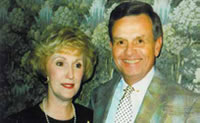 Linda and Thomas B. Bryant III'59, '61L
The Bryant Scholarship was established after the death of his father, Thomas B. Bryant Jr., '28L, through a bequest and an outright gift from Bryant's mother, Cornelia S. Bryant. As part of his 50th reunion gift Bryant made provision in his estate plans to enhance the scholarship endowment. "There is a lasting reward knowing that I am adding to my father's gift. When I found out I could add to my father's gift and give to W&L at the same time, honoring two great loves of my life, that really made it come together."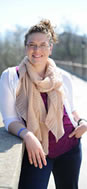 Maisie Osteen '14L
Bryant Scholarship Recipient
" On a practical level the Bryant scholarship afforded me the opportunity to attend W&L, which is huge for me," admitted Maisie Osteen '14L. "Scholarships like these show how proud people are to be graduates and alumni of Washington and Lee. It is a network that I'm honored to be a part of," Osteen added. "I hope one day I'll be in a position to give back in a similar way. Washington and Lee is a competitive environment where we challenge each other, but community remains the most important aspect of the university."
Learn About the Gift | Read More About Tom Bryant (Spring 2012 Newsletter)
---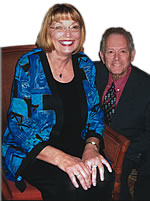 Beverly and Jere '59 Williams
Many years ago, Jere Williams '59 made a promise to help other people at all times, one he has kept both personally and professionally. Little did he know when he made that oath as a Boy Scout that he would serve the organization for 43 years as an employee.
The couple established their charitable gift annuity in celebration of Williams' 50th class reunion in May, proving that some of the Scout Law attributes—trustworthiness, loyalty, helpfulness, friendliness and kindness—apply to Williams' feeling for the University, too.
Learn About the Gift | Read More About Beverly and Jere Williams (Spring 2009 Newsletter)
---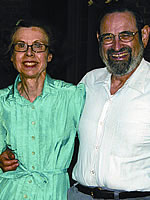 Mary Faith and Mark Pankin
"Lexington is a nice place to grow up, and most of my friends were children of W&L or VMI employees," said Pankin. "People tend to come to Lexington and never leave. Dad referred to it as Utopia University, and he wasn't kidding. "Dad" is the late William W. "Bill" Pusey, III a W&L professor of German and Russian who also served as dean for 11 years.
As part of their retirement planning, Mary Faith and Mark established two charitable deferred gift annuities with W&L. They will receive income for life and the remainder will be added to the William W. Pusey, III Endowment Fund which was established by a bequest from Dean Pusey.
Learn About the Gift | Read More About Mary Faith and Mark Pankin (Spring 2010 Newsletter)
---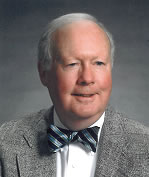 Thomas T. Moore Jr., '63, and his brother, the Hon. Hullihen W. Moore '65 established the Moore Scholarship in 1985 to honor their father and grandfather.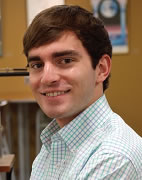 The current recipient, S. Rodes Brown '13, a biology major and music minor, hails from Louisville, Ky. "It is difficult to express the gratitude I feel," Brown said. "It amazes me how a complete stranger has chosen to support me in such a generous way. It means a lot to me."
Tom has chosen to add to the scholarship through a bequest. Moore said, "We wanted to do what we could to help worthy students attend Washington and Lee. The notes I get from the scholarship recipients are very encouraging... It keeps me connected in a current way to the school."
Learn About the Gift | Read More About Tom Moore in the Summer 2012 W&L Alumni Magazine
---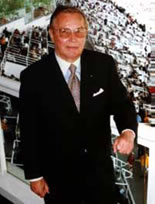 Richard L. Duchossois '44 credits Washington and Lee with helping him achieve his many lifetime accomplishments. "The culture of Washington and Lee stayed with me throughout my time in the service and throughout my business life and the W&L culture will benefit all of the students."
"I don't look at my bequest as a donation to a university fundraising program. I look at it as an investment in our country," Duchossois continued. "Washington and Lee is turning out well-educated, well-rounded graduates who will be able to contribute to the society in which we live. It is an investment in our future leaders and citizens."
Learn About the Gift | Read More About Dick Duchossois (Fall 2011 Newsletter)
---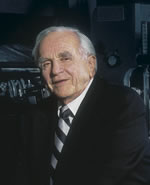 Charles S. Rowe 45 50L enjoyed a successful career as editor and co-publisher of the award-winning Free Lance-Star in Fredericksburg, VA. "I would not have gone to W&L if I had not had a full scholarship," said Rowe, who benefited from the generosity of W&L donor Jessie Ball duPont. "I owe a lot to W&L, and what I have given back to the University by service on the Board of Trustees and through my gifts has been only a small repayment for what W&L has given me."
On the occasion of his 50th class reunion, Rowe included a bequest in support of the World War II Memorial Scholarship Endowment.
Learn About the Gift | Read More About Charlie Rowe (Spring 2011 Newsletter)
---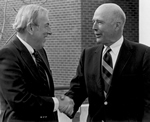 E. Marshall Nuckols Jr. '33, '35L, right, accepts congratulations from Jim Ballengee 48L, left, on his appointment as rector of Washington and Lee in 1974. Upon his retirement from Campbell Soup Company in 1976, he created charitable remainder unitrust that provided him with income until his death in 1994 with the remainder to Washington and Lee. Pat Nuckols also honored her late husband by establishing a charitable remainder unitrust to support the Nuckols Scholarship. "My gift to the University was a way to honor Marshall's memory," said Pat Nuckols. "That said, I see my investment in the University as a good vehicle for me personally."
Learn About the Gift | Read More About Marshal and Pat Nuckols (Fall 2010 Newsletter)
---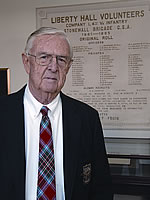 Bill Bean Jr. '51 has made a bequest in honor of his father who taught at W&L form 1922 to 1963. Following a successful career in the insurance industry, Bean shouldered the task of updating his father's book The Liberty Hall Volunteers: Stonewalls' College Boys. The bequest will create the William Glasgow Bean Endowment Fund which will provide support to Lee Chapel & Museum, specifically to maintain and preserve the Liberty Hall Volunteers tablet in the Chapel's entrance.
Learn About the Gift | Read More About Bill Bean (Spring 2008 Newsletter)
---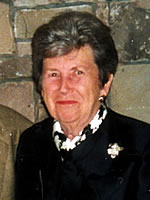 Mary Jane Redenbaugh is proud of the three generations that have graduated from W&L; Jonathon "J.B." '99, Jim '66 and Harry '39.
"Harry liked everything about Washington and Lee," said his widow, Mary Jayne Redenbaugh." In 1992 Harry and Mary Jayne became members of the Doremus Society by establishing their first charitable remainder unitrust (CRUT) which will eventually endow the Mary Jayne and Harry Redenbaugh Scholarship. A second CRUT from 1999 is to be designated at the discretion of the Board of Trustees.
Learn About the Gift | Read More About Mary Jane Redenbaugh (Fall 2008 Newsletter)
---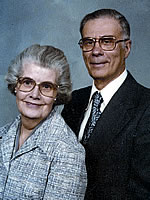 Mary and John '36 Herwick
Despite his success, Herwick, a respected Detroit physician, never forgot the professors who provided the foundation for his medical career. He and his wife, Mary, spent several years making estate plans, and the Herwicks provided generously for Washington and Lee, taking great care to support the faculty in the sciences.
The couple's estate through a bequest provided for three endowment gifts, including a professorship in biology and a second in chemistry, as well as the Oscar E. and Edith D. Herwick Memorial Scholarship in memory of his parents.
Learn About the Gift | Read More About Mary and John Herwick (Spring 2010 Newsletter, Page 3)